Download Kindle Buffet - Daily Free & Discounted Books 1.1 for iPhone & iPad

Category: Books, Entertainment,
Name: Kindle Buffet - Daily Free & Discounted Books
Version: 1.1
Download size: 34.93 MB
Date: 2015-03-24T02:23:46Z
Publisher: Weber Books
Rating: 4+
License: Free
Compatible devices: iPadMiniRetinaCellular-iPadMiniRetinaCellular, iPhone5-iPhone5, iPhone3GS-iPhone-3GS, iPadPro97-iPadPro97, iPadAir-iPadAir, iPadMini3-iPadMini3, iPhone6Plus-iPhone6Plus, iPhone4-iPhone4, iPadMiniRetina-iPadMiniRetina, iPhone8-iPhone8, iPhoneSE-iPhoneSE, iPad2Wifi-iPad2Wifi, iPadMini-iPadMini, iPadMini4-iPadMini4, iPad612-iPad612, iPodTouchFifthGen-iPodTouchFifthGen, iPhone5c-iPhone5c, iPhone7-iPhone7, iPhone4S-iPhone4S, iPad74-iPad74, iPad72-iPad72, iPhone6s-iPhone6s, iPadFourthGen4G-iPadFourthGen4G, iPadProCellular-iPadProCellular, iPhone7Plus-iPhone7Plus, iPadThirdGen4G-iPadThirdGen4G, iPadPro97Cellular-iPadPro97Cellular, iPhone5s-iPhone5s, iPad71-iPad71, iPadPro-iPadPro, iPhone8Plus-iPhone8Plus, iPhone6-iPhone6, iPad73-iPad73, iPadAir2Cellular-iPadAir2Cellular, iPadMini4Cellular-iPadMini4Cellular, iPad611-iPad611, iPodTouchFourthGen-iPodTouchFourthGen, iPadThirdGen-iPadThirdGen, iPhone6sPlus-iPhone6sPlus, iPadFourthGen-iPadFourthGen, iPhoneX-iPhoneX, iPad23G-iPad23G, iPadMini3Cellular-iPadMini3Cellular, iPadAirCellular-iPadAirCellular, iPadAir2-iPadAir2, iPodTouchSixthGen-iPodTouchSixthGen, iPadMini4G-iPadMini4G
Note: If you are using device with Windows Phone or Android operation system, please scan the qr code
Use your smartphone to scan the QR CODE above to download this application
Screenshot of Kindle Buffet - Daily Free & Discounted Books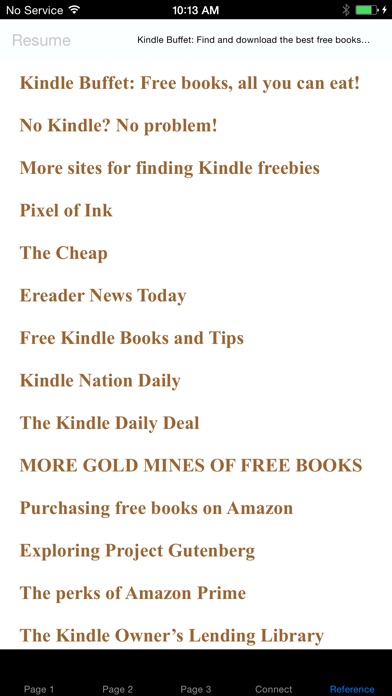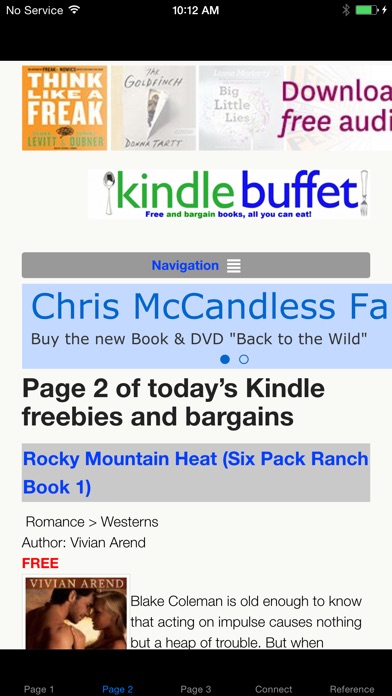 Share Kindle Buffet - Daily Free & Discounted Books with your friends !
What is new in Kindle Buffet - Daily Free & Discounted Books?
This app is updated daily with hand-picked lists of recommended books available free, or at temporary discounts.

Each day, you'll see a hand-picked list of highly rated free and bargain-priced books in all genres: romance, science fiction, mystery, adventure, children's, nonfiction and more.

Other app features include:

> In the "Connect" tab, send a message to app publisher Steve Weber via Facebook to register your vote for (or against) specific book authors, titles, and genres.

> In the "Reference" tab, read a free copy of the book "Find and Download the Best Free Books," which normally retails for $5.95 in the paperback edition.

Each day's lineup represents the day's best available freebies and bargains in the judgment of the publisher. Payment is not accepted in exchange for display on the list.

One of the best things about bargain books is it's a great way to sample a new genre, or perhaps discover an author you hadn't noticed before. The free and reduced-price promotions usually last only a few days, but there's a new crop every day. You'll be amazed at the wealth of great books. Usually there are several hundred freebies in virtually every category of fiction and nonfiction, every day of the year. And these aren't just the dogs that nobody wants, the selection includes bona-fide bestsellers from the most famous authors in the world. You may never have to pay full price for books again.
Tag: Kindle Buffet - Daily Free & Discounted Books , Kindle Buffet - Daily Free , Discounted Books
---
Leave a comment
Games and apps related to Book