Download Weather Puppy: Forecast + Dogs 3.3 for iPhone & iPad
Name: Weather Puppy: Forecast + Dogs
Version: 3.3
Download size: 100.62 MB
Date: 2012-05-26T00:08:06Z
Publisher: Weather Creative Inc.
Rating: 4+
License: Free
Compatible devices: iPadPro-iPadPro, iPadFourthGen-iPadFourthGen, iPadPro97Cellular-iPadPro97Cellular, iPhone4S-iPhone4S, iPhoneSE-iPhoneSE, iPhone8-iPhone8, iPadAir2-iPadAir2, iPadMini4-iPadMini4, iPadMiniRetinaCellular-iPadMiniRetinaCellular, iPhone6Plus-iPhone6Plus, iPadProCellular-iPadProCellular, iPad23G-iPad23G, iPhone6sPlus-iPhone6sPlus, iPadMini4Cellular-iPadMini4Cellular, iPadMiniRetina-iPadMiniRetina, iPadThirdGen4G-iPadThirdGen4G, iPhone5c-iPhone5c, iPadMini3Cellular-iPadMini3Cellular, iPhone5s-iPhone5s, iPhone6s-iPhone6s, iPhone5-iPhone5, iPhone7-iPhone7, iPad612-iPad612, iPad2Wifi-iPad2Wifi, iPhone8Plus-iPhone8Plus, iPad74-iPad74, iPadPro97-iPadPro97, iPadMini4G-iPadMini4G, iPadThirdGen-iPadThirdGen, iPodTouchSixthGen-iPodTouchSixthGen, iPad71-iPad71, iPadMini-iPadMini, iPhoneX-iPhoneX, iPhone7Plus-iPhone7Plus, iPadAir-iPadAir, iPad72-iPad72, iPadAir2Cellular-iPadAir2Cellular, iPhone6-iPhone6, iPadMini3-iPadMini3, iPad73-iPad73, iPodTouchFifthGen-iPodTouchFifthGen, iPadAirCellular-iPadAirCellular, iPad611-iPad611, iPadFourthGen4G-iPadFourthGen4G
Note: If you are using device with Windows Phone or Android operation system, please scan the qr code
Use your smartphone to scan the QR CODE above to download this application
Screenshot of Weather Puppy: Forecast + Dogs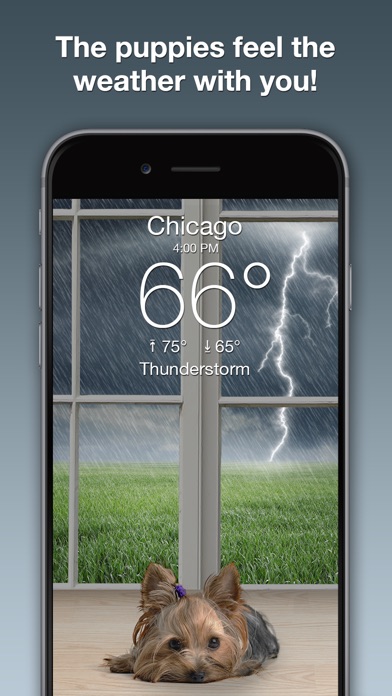 Share Weather Puppy: Forecast + Dogs with your friends !
What is new in Weather Puppy: Forecast + Dogs?
Smile every time you check the weather!

The puppy changes based on the weather and time. Multiple puppies to choose from, you can even add your own dog!

Features
- Over 800 puppies organized into 16 themes (Default, Glamour, Halloween, Fall Colors, Holiday Pups, Puppy Love, Pugs, Spring Puppies, Waterskiing Westies, Summer Fun, Yoga Dogs, Labradors, German Shepherds, Winter Wonder, Cats & Dogs, and Frenchies)
- Use photos of your dog to create your own theme (premium add-on)
- Share your puppy with friends on Facebook, Instagram, & Twitter
- Weather forecasts for multiple locations around the world
- 10 day weather forecast
- Hourly weather
- Today's high and low, feels like, humidity, wind, sunrise/set and more
- Animated Radar

Your pup will bark and wag its tail when it gets its paws on this chewy app. The weather has never been cuter!
Tag: Weather Puppy: Forecast + Dogs , Weather Puppy , Forecast + Dogs
---
Leave a comment
Games and apps related to Weather