Download TaxiLater | Scheduled Rides for Uber 1.1 for iPhone & iPad

Category: Travel, Productivity,
Name: TaxiLater | Scheduled Rides for Uber
Version: 1.1
Download size: 40.7 MB
Date: 2016-05-02T05:57:25Z
Publisher: Joshua Meier
Rating: 4+
License: Free
Compatible devices: iPadThirdGen4G-iPadThirdGen4G, iPadMini3Cellular-iPadMini3Cellular, iPadMiniRetina-iPadMiniRetina, iPhoneSE-iPhoneSE, iPadAirCellular-iPadAirCellular, iPad2Wifi-iPad2Wifi, iPadPro97-iPadPro97, iPad611-iPad611, iPadMiniRetinaCellular-iPadMiniRetinaCellular, iPad612-iPad612, iPhone6-iPhone6, iPad74-iPad74, iPadAir-iPadAir, iPadProCellular-iPadProCellular, iPadFourthGen4G-iPadFourthGen4G, iPhone5s-iPhone5s, iPadPro-iPadPro, iPhone4S-iPhone4S, iPhone5c-iPhone5c, iPad72-iPad72, iPad73-iPad73, iPhoneX-iPhoneX, iPadThirdGen-iPadThirdGen, iPhone7-iPhone7, iPhone6sPlus-iPhone6sPlus, iPad23G-iPad23G, iPhone6s-iPhone6s, iPhone7Plus-iPhone7Plus, iPadMini3-iPadMini3, iPadMini-iPadMini, iPodTouchFifthGen-iPodTouchFifthGen, iPadMini4-iPadMini4, iPodTouchSixthGen-iPodTouchSixthGen, iPadFourthGen-iPadFourthGen, iPhone5-iPhone5, iPad71-iPad71, iPadPro97Cellular-iPadPro97Cellular, iPadMini4Cellular-iPadMini4Cellular, iPadAir2-iPadAir2, iPadMini4G-iPadMini4G, iPhone8Plus-iPhone8Plus, iPadAir2Cellular-iPadAir2Cellular, iPhone6Plus-iPhone6Plus, iPhone8-iPhone8
Note: If you are using device with Windows Phone or Android operation system, please scan the qr code
Use your smartphone to scan the QR CODE above to download this application
Screenshot of TaxiLater | Scheduled Rides for Uber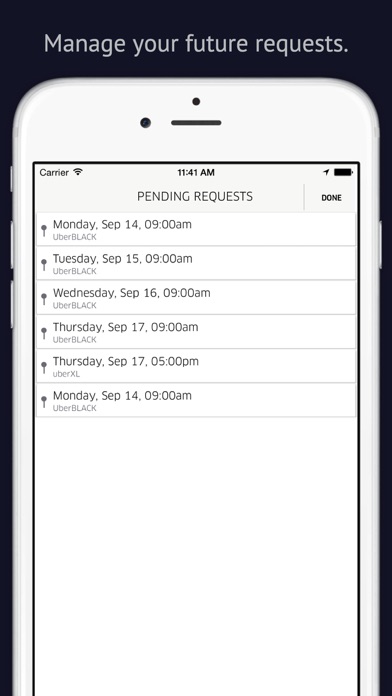 Share TaxiLater | Scheduled Rides for Uber with your friends !
What is new in TaxiLater | Scheduled Rides for Uber?
*****As featured by TIME, Mashable, Business Insider, and Gizmodo*****

Schedule an Uber for the time you want.

Request an Uber now, for later. Stop waiting for a car to arrive. Leave your phone at the door and enjoy the moment.

Login with your Uber account.
Select time, location, and car type.
Manage future requests.

If Uber is surging, you'll be asked to confirm the higher rate before we book your ride.

Previously just an on-demand service, Uber can be frustrating for those wanting to plan their trips in advance. Now, meet the TaxiLater family: prebook your ride today.

* We exclusively source Uber vehicles to ensure your ride is top quality. All payment is handled by Uber.

Save up to $20 with code efgxc.

*****FAQ*****
Thanks to all for your tremendous support! Your feedback helps determine the next set of features that TaxiLater will add.

Questions? Contact support@taxilater.com.
Tag: TaxiLater | Scheduled Rides for Uber , TaxiLater | Scheduled Rides for Uber
---
Leave a comment
Games and apps related to Travel