Download AnchorUp - A local's guide to travel 1.0 for iPhone & iPad
Name: AnchorUp - A local's guide to travel
Version: 1.0
Download size: 23.2 MB
Date: 2015-12-10T18:06:48Z
Publisher: MapMotion
Rating: 12+
License: Free
Compatible devices: iPad612-iPad612, iPadPro-iPadPro, iPadMini4-iPadMini4, iPadFourthGen-iPadFourthGen, iPadAir2Cellular-iPadAir2Cellular, iPhone4S-iPhone4S, iPad72-iPad72, iPadThirdGen4G-iPadThirdGen4G, iPad2Wifi-iPad2Wifi, iPad73-iPad73, iPhone6s-iPhone6s, iPhone5c-iPhone5c, iPadMini3Cellular-iPadMini3Cellular, iPhoneSE-iPhoneSE, iPhone7Plus-iPhone7Plus, iPad71-iPad71, iPad611-iPad611, iPadAirCellular-iPadAirCellular, iPodTouchSixthGen-iPodTouchSixthGen, iPadFourthGen4G-iPadFourthGen4G, iPadPro97-iPadPro97, iPadProCellular-iPadProCellular, iPhone5-iPhone5, iPhone7-iPhone7, iPadMini4Cellular-iPadMini4Cellular, iPad23G-iPad23G, iPadThirdGen-iPadThirdGen, iPhone6Plus-iPhone6Plus, iPadMini-iPadMini, iPadMini3-iPadMini3, iPhone5s-iPhone5s, iPadMiniRetinaCellular-iPadMiniRetinaCellular, iPhone6sPlus-iPhone6sPlus, iPadAir-iPadAir, iPhone6-iPhone6, iPadPro97Cellular-iPadPro97Cellular, iPhone8Plus-iPhone8Plus, iPadMiniRetina-iPadMiniRetina, iPhoneX-iPhoneX, iPodTouchFifthGen-iPodTouchFifthGen, iPadMini4G-iPadMini4G, iPhone8-iPhone8, iPad74-iPad74, iPadAir2-iPadAir2
Note: If you are using device with Windows Phone or Android operation system, please scan the qr code
Use your smartphone to scan the QR CODE above to download this application
Screenshot of AnchorUp - A local's guide to travel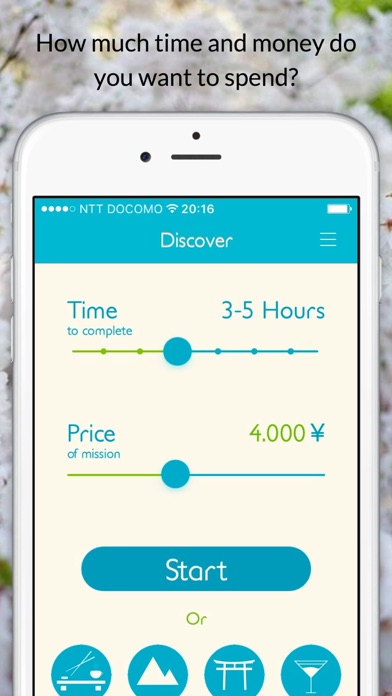 Share AnchorUp - A local's guide to travel with your friends !
What is new in AnchorUp - A local's guide to travel?
AnchorUp (verb): To encourage travelers to throw away that guidebook, map, or itinerary and experience what travel should be: exploring a city like a local and meeting amazing people while doing so.


Welcome to the AnchorUp app!

We are redefining the way millennials travel and connect by allowing users to explore the "hidden gems" of the city they're in without the headache of looking at top ranked lists, formulating itineraries, printing maps, and weighing options.

*Currently Tokyo, Japan, focused. AnchorUp will be quickly expanding to SE Asia and abroad in 2016.*


Tailored Options
-------------------

We provide custom places to visit based on:
・ #Hashtag Preferences
・ Time available
・ How much you want to spend


Rewarding Users
--------------------

Gamified content allows users to receive points for missions that they complete which will soon be redeemable for:
・ Exciting Adventures
・ Unlockable Missions & Areas
・ Discounts on Travel & Accommodation


Social
-------

Keep in touch with friends and other travelers through:
・ Newsfeeds of friends' completed missions
・ Following & Followers lists
・ Custom Profiles


In App Experience
---------------------

Users are presented with a streamlined and easy-to-use interface. Only a few clicks take you anywhere you need to go and a main menu is always available in any screen.

Think about it.... The best times traveling are those that are spontaneous and take you to places you would never find yourself. Meet that group, start your adventure, and remember it forever.

The key to lasting memories and friendships is as easy
as:

AnchorUp. Set Sail. Go.
Tag: AnchorUp - A local's guide to travel , AnchorUp - A local's guide to travel
---
Leave a comment
Games and apps related to Travel