Download Content Transf 3.5.10.1 for iPhone & iPad
Category: Productivity,
Name: Content Transf
Version: 3.5.10.1
Download size: 28.18 MB
Date: 2016-07-20T23:18:36Z
Publisher: Verizon Wireless
Rating: 4+
License: Free
Compatible devices: iPhone6-iPhone6, iPadThirdGen-iPadThirdGen, iPadPro-iPadPro, iPodTouchSixthGen-iPodTouchSixthGen, iPadAir-iPadAir, iPadProCellular-iPadProCellular, iPhone6Plus-iPhone6Plus, iPadFourthGen-iPadFourthGen, iPadMini-iPadMini, iPad611-iPad611, iPadMini3-iPadMini3, iPhone6sPlus-iPhone6sPlus, iPhoneSE-iPhoneSE, iPadAirCellular-iPadAirCellular, iPad71-iPad71, iPadMini4Cellular-iPadMini4Cellular, iPhone5-iPhone5, iPad612-iPad612, iPadMini4-iPadMini4, iPhone8Plus-iPhone8Plus, iPad73-iPad73, iPodTouchFifthGen-iPodTouchFifthGen, iPhone4S-iPhone4S, iPadMiniRetinaCellular-iPadMiniRetinaCellular, iPadFourthGen4G-iPadFourthGen4G, iPadThirdGen4G-iPadThirdGen4G, iPadAir2Cellular-iPadAir2Cellular, iPad23G-iPad23G, iPhone8-iPhone8, iPadPro97-iPadPro97, iPhone5s-iPhone5s, iPhone7-iPhone7, iPad72-iPad72, iPhone5c-iPhone5c, iPhone6s-iPhone6s, iPad74-iPad74, iPadMini3Cellular-iPadMini3Cellular, iPadAir2-iPadAir2, iPadMini4G-iPadMini4G, iPhoneX-iPhoneX, iPadMiniRetina-iPadMiniRetina, iPad2Wifi-iPad2Wifi, iPhone7Plus-iPhone7Plus, iPadPro97Cellular-iPadPro97Cellular
Note: If you are using device with Windows Phone or Android operation system, please scan the qr code
Use your smartphone to scan the QR CODE above to download this application
Screenshot of Content Transf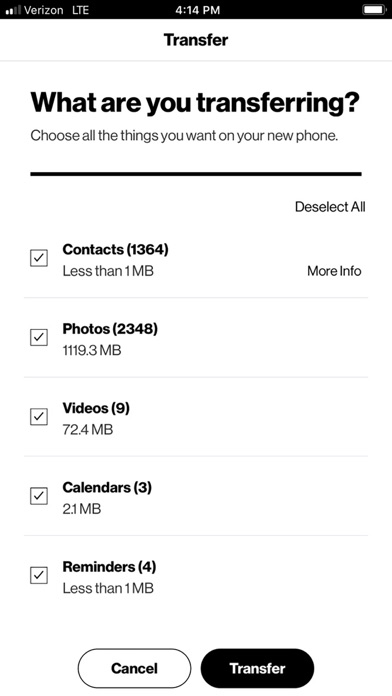 Share Content Transf with your friends !
What is new in Content Transf?
The Content Transfer app allows fast and simple transfer of personal media (photos/videos) as well as contacts, calendars, and reminders from your old device to a new one. Content can be transferred over the air without the need for wires, subscribed services, or additional equipment. Simply run Content Transfer on both devices to easily and intuitively copy all your personal data and begin enjoying your new phone. Also supports transfers to and from other devices that run on other major operating systems.
Tag: Content Transf , Content Transf
---
Leave a comment
Games and apps related to Productivity