Download Find the Numbers Game 1.0 for iPhone & iPad

Name: Find the Numbers Game
Version: 1.0
Download size: 90.01 MB
Date: 2015-06-11T13:12:46Z
Publisher: aaron from
Rating: 4+
License: Free
Compatible devices: iPad23G-iPad23G, iPadFourthGen-iPadFourthGen, iPadMiniRetinaCellular-iPadMiniRetinaCellular, iPad74-iPad74, iPadMini-iPadMini, iPhoneX-iPhoneX, iPhone5-iPhone5, iPadThirdGen4G-iPadThirdGen4G, iPhone4S-iPhone4S, iPadAirCellular-iPadAirCellular, iPhone6sPlus-iPhone6sPlus, iPadMini3-iPadMini3, iPhone4-iPhone4, iPadMini4Cellular-iPadMini4Cellular, iPadPro97Cellular-iPadPro97Cellular, iPadAir2Cellular-iPadAir2Cellular, iPad612-iPad612, iPhone6-iPhone6, iPadPro-iPadPro, iPodTouchFifthGen-iPodTouchFifthGen, iPadMiniRetina-iPadMiniRetina, iPadFourthGen4G-iPadFourthGen4G, iPad2Wifi-iPad2Wifi, iPadMini4-iPadMini4, iPhone7-iPhone7, iPadMini3Cellular-iPadMini3Cellular, iPadPro97-iPadPro97, iPhoneSE-iPhoneSE, iPad71-iPad71, iPad73-iPad73, iPadProCellular-iPadProCellular, iPhone8-iPhone8, iPadMini4G-iPadMini4G, iPad611-iPad611, iPhone8Plus-iPhone8Plus, iPodTouchSixthGen-iPodTouchSixthGen, iPhone5s-iPhone5s, iPhone7Plus-iPhone7Plus, iPadAir2-iPadAir2, iPhone5c-iPhone5c, iPad72-iPad72, iPhone6s-iPhone6s, iPadAir-iPadAir, iPhone6Plus-iPhone6Plus, iPadThirdGen-iPadThirdGen
Note: If you are using device with Windows Phone or Android operation system, please scan the qr code
Use your smartphone to scan the QR CODE above to download this application
Screenshot of Find the Numbers Game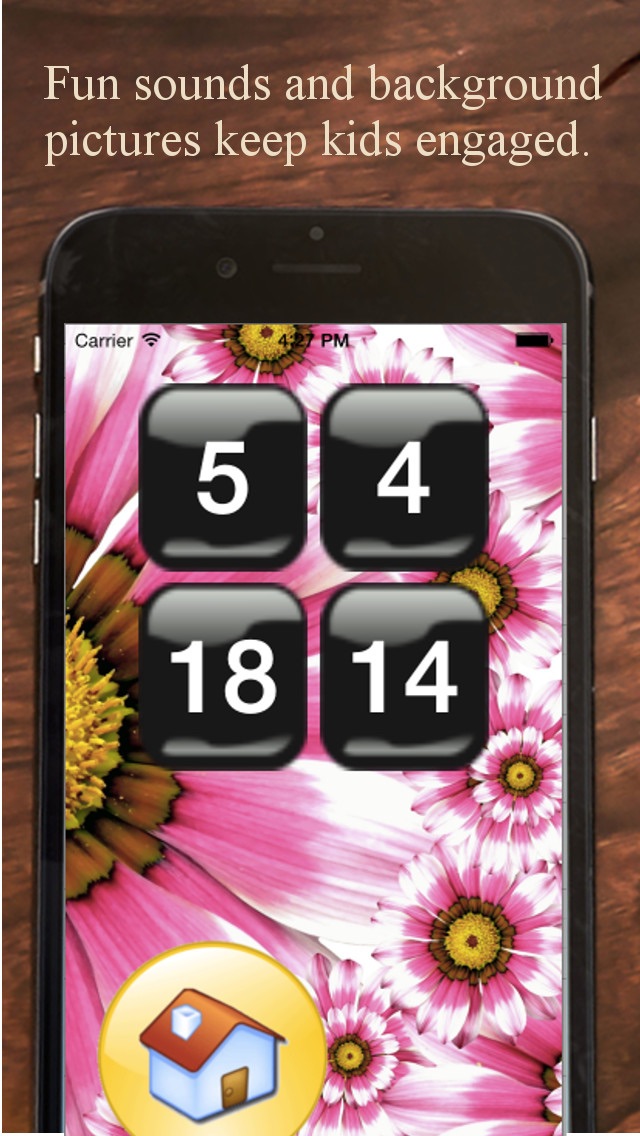 Share Find the Numbers Game with your friends !
What is new in Find the Numbers Game?
I created this game for and with my 4 and 5 year old daughters. They provided the inspiration and the voices for all the words spoken in clear english for the game. At every step of development I "field tested" the application with my children. They provided valuable (and very honest :) feedback which has resulted in this educational and engaging program. The game is actually quite simple. With each level four randomly chosen numbers appear, a voice in plain english requests that the player press or touch a specific number. Only numbers 1 through 20 are displayed with a special focus on the numbers 11 through 20. If an incorrect number is pressed an "Uh oh" phrase is spoken; if the correct number is selected your child will hear praising sounds and voices and the next randomly generated number set is shown. Each level has beautiful backgrounds ranging from nature scenes and animals to firetrucks and construction machines. My 5 year old is just at the upper age for the game, but every so often she still gets a number wrong if her attention wanders. My 4 year old seems to benefit the most from the game, it stretches her knowledge of numbers and engages her. Also, no advertisements of any sort are associated with this game, it will never request an email or a login! I hope your children learn as much and have as much fun as mine!
Tag: Find the Numbers Game , Find the Numbers Game
---
Leave a comment
Games and apps related to Education