Download Florida Golf Magazine 6.16 for iPhone & iPad
Category: Sports, Magazines & Newspapers,
Name: Florida Golf Magazine
Version: 6.16
Download size: 20.24 MB
Date: 2015-05-29T11:23:21Z
Publisher: Magzter Inc.
Rating: 4+
License: Free
Compatible devices: iPhone7Plus-iPhone7Plus, iPhone5-iPhone5, iPhone4S-iPhone4S, iPadMini-iPadMini, iPadMiniRetinaCellular-iPadMiniRetinaCellular, iPadPro97Cellular-iPadPro97Cellular, iPadMini4G-iPadMini4G, iPadMini3-iPadMini3, iPadAir2-iPadAir2, iPadAir2Cellular-iPadAir2Cellular, iPad72-iPad72, iPad71-iPad71, iPhone8-iPhone8, iPadFourthGen-iPadFourthGen, iPad23G-iPad23G, iPad611-iPad611, iPadPro-iPadPro, iPhone7-iPhone7, iPadPro97-iPadPro97, iPad612-iPad612, iPadProCellular-iPadProCellular, iPadMini3Cellular-iPadMini3Cellular, iPhone5c-iPhone5c, iPadAirCellular-iPadAirCellular, iPadThirdGen4G-iPadThirdGen4G, iPhone6s-iPhone6s, iPad2Wifi-iPad2Wifi, iPhone6sPlus-iPhone6sPlus, iPodTouchFifthGen-iPodTouchFifthGen, iPhoneX-iPhoneX, iPad73-iPad73, iPodTouchSixthGen-iPodTouchSixthGen, iPadMiniRetina-iPadMiniRetina, iPadAir-iPadAir, iPhone8Plus-iPhone8Plus, iPadThirdGen-iPadThirdGen, iPhone6-iPhone6, iPadMini4-iPadMini4, iPhone5s-iPhone5s, iPhoneSE-iPhoneSE, iPadMini4Cellular-iPadMini4Cellular, iPadFourthGen4G-iPadFourthGen4G, iPad74-iPad74, iPhone6Plus-iPhone6Plus
Note: If you are using device with Windows Phone or Android operation system, please scan the qr code
Use your smartphone to scan the QR CODE above to download this application
Screenshot of Florida Golf Magazine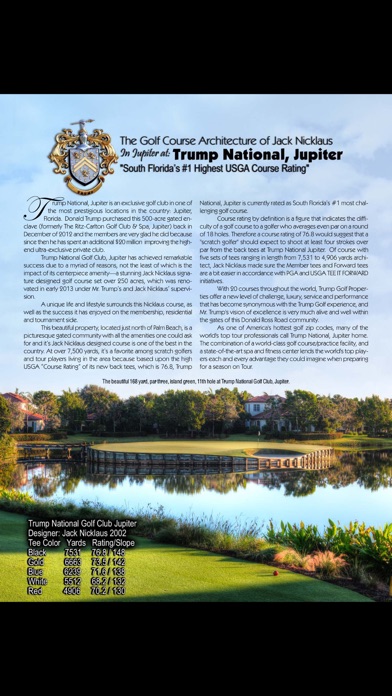 Share Florida Golf Magazine with your friends !
What is new in Florida Golf Magazine?
FLORIDA GOLF MAGAZINE, features a unique blend of Florida golf course photography, course reviews and real estate showcases mixed with Florida golf resort and travel feature stories. Plus Florida Golf Magazine's celebrity interviews, golf articles and tips by nationally known contributing editors will always interest golf readers.
Tag: Florida Golf Magazine , Florida Golf Magazine
---
Leave a comment
Games and apps related to Sports