Download Free Bible Promises 1.01 for iPhone & iPad
Category: Entertainment, Lifestyle,
Name: Free Bible Promises
Version: 1.01
Download size: 73.04 MB
Date: 2016-09-06T23:16:49Z
Publisher: Jairo Carrizales
Rating: 4+
License: Free
Compatible devices: iPhone4-iPhone4, iPad72-iPad72, iPadMini3Cellular-iPadMini3Cellular, iPadThirdGen4G-iPadThirdGen4G, iPhone5c-iPhone5c, iPad23G-iPad23G, iPadThirdGen-iPadThirdGen, iPadMini4-iPadMini4, iPhoneSE-iPhoneSE, iPodTouchFifthGen-iPodTouchFifthGen, iPhone4S-iPhone4S, iPadMiniRetina-iPadMiniRetina, iPad612-iPad612, iPadAir2-iPadAir2, iPhone7Plus-iPhone7Plus, iPhone8-iPhone8, iPhone7-iPhone7, iPhone6-iPhone6, iPhoneX-iPhoneX, iPad73-iPad73, iPadMini-iPadMini, iPhone8Plus-iPhone8Plus, iPad74-iPad74, iPadFourthGen4G-iPadFourthGen4G, iPhone5s-iPhone5s, iPadAir-iPadAir, iPadAir2Cellular-iPadAir2Cellular, iPad71-iPad71, iPadProCellular-iPadProCellular, iPadMini3-iPadMini3, iPad2Wifi-iPad2Wifi, iPadMini4Cellular-iPadMini4Cellular, iPadMini4G-iPadMini4G, iPhone5-iPhone5, iPadPro97-iPadPro97, iPhone6Plus-iPhone6Plus, iPodTouchSixthGen-iPodTouchSixthGen, iPadPro97Cellular-iPadPro97Cellular, iPadMiniRetinaCellular-iPadMiniRetinaCellular, iPhone6s-iPhone6s, iPad611-iPad611, iPhone6sPlus-iPhone6sPlus, iPadFourthGen-iPadFourthGen, iPadAirCellular-iPadAirCellular, iPadPro-iPadPro
Note: If you are using device with Windows Phone or Android operation system, please scan the qr code
Use your smartphone to scan the QR CODE above to download this application
Screenshot of Free Bible Promises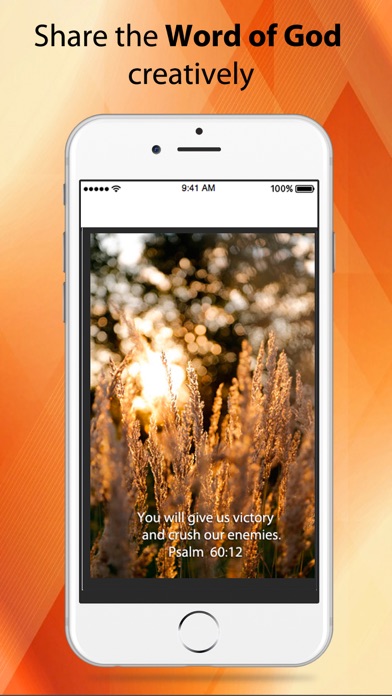 Share Free Bible Promises with your friends !
What is new in Free Bible Promises?
Biblical promises image in an application that will bless your life and the people that you share and that through beautiful landscapes of nature will allow you to remember the powerful promises of God to speak into your life to give you encouragement, peace and security face the daily challenges of life.



You can share these beautiful images with this content blessed with friends and relatives, whatsapp, facebook, email or your social network of choice.

Images are classified by type of nature and landscape, trees, mountains, flowers, lakes, sunset ...

I hope I can be a blessing this application of Christian biblical promises.

Share the word of God with friends and family in a fancy way these biblical promises images of nature.
Tag: Free Bible Promises , Free Bible Promises
---
Leave a comment
Games and apps related to Entertainment