Download Free Texting in Spanish 2.1 for iPhone & iPad
Category: Utilities, Social Networking,
Name: Free Texting in Spanish
Version: 2.1
Download size: 71.56 KB
Date: 2010-08-10T01:10:12Z
Publisher: Qualex Consulting Services, Inc
Rating: 4+
License: Free
Compatible devices: iPhone4S-iPhone4S, iPadFourthGen4G-iPadFourthGen4G, iPhone3GS-iPhone-3GS, iPad612-iPad612, iPadAir2-iPadAir2, iPodTouchFifthGen-iPodTouchFifthGen, iPad73-iPad73, iPhone5s-iPhone5s, iPadMini4Cellular-iPadMini4Cellular, iPadMini-iPadMini, iPhone8Plus-iPhone8Plus, iPhone7Plus-iPhone7Plus, iPhoneSE-iPhoneSE, iPhoneX-iPhoneX, iPadProCellular-iPadProCellular, iPadPro97Cellular-iPadPro97Cellular, iPhone3G-iPhone-3G, iPadMiniRetina-iPadMiniRetina, iPadAirCellular-iPadAirCellular, iPhone7-iPhone7, iPadMiniRetinaCellular-iPadMiniRetinaCellular, iPadFourthGen-iPadFourthGen, iPadMini4-iPadMini4, iPad23G-iPad23G, iPhone6-iPhone6, iPadMini3Cellular-iPadMini3Cellular, iPadWifi-iPadWifi, iPhone6Plus-iPhone6Plus, iPad2Wifi-iPad2Wifi, iPadThirdGen4G-iPadThirdGen4G, iPadThirdGen-iPadThirdGen, iPhone5-iPhone5, iPodTouchSixthGen-iPodTouchSixthGen, iPadMini3-iPadMini3, iPhone4-iPhone4, iPad3G-iPad3G, iPad71-iPad71, iPad74-iPad74, iPadPro-iPadPro, iPad611-iPad611, iPadMini4G-iPadMini4G, iPodTouchThirdGen-iPodTouchThirdGen, iPadAir2Cellular-iPadAir2Cellular, iPhone6sPlus-iPhone6sPlus, iPad72-iPad72, iPadAir-iPadAir, iPhone5c-iPhone5c, iPadPro97-iPadPro97, iPodTouchSecondGen-iPod-touch-with-mic, iPhone6s-iPhone6s, iPhone8-iPhone8, iPodTouchFourthGen-iPodTouchFourthGen
Note: If you are using device with Windows Phone or Android operation system, please scan the qr code
Use your smartphone to scan the QR CODE above to download this application
Screenshot of Free Texting in Spanish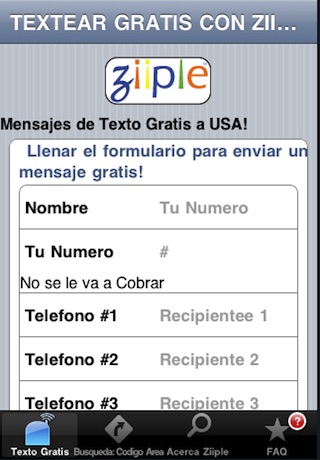 Share Free Texting in Spanish with your friends !
What is new in Free Texting in Spanish?
Free Texting - Spanish Edition

This version of the Free Texting app is translated into Spanish to make it easier for those who speak Spanish to send free text messages to friends and family in the United States.

This app is totally free, send Text messages from your iPhone, iPad, iTouch to anybody in the United States for free!!

There is zero cost to you in sending out text messages. Text messages may only be sent to USA phone numbers ONLY!
Tag: Free Texting in Spanish , Free Texting in Spanish
---
Leave a comment
Games and apps related to Utilities