Download Limelight 3.9 for iPhone & iPad
Category: Social Networking, Lifestyle,
Name: Limelight
Version: 3.9
Download size: 21.78 MB
Date: 2015-12-07T16:11:18Z
Publisher: Chris Morgan
Rating: 12+
License: Free
Compatible devices: iPhone5-iPhone5, iPhone5c-iPhone5c, iPadAir2-iPadAir2, iPhone4S-iPhone4S, iPad72-iPad72, iPhone8-iPhone8, iPadAir-iPadAir, iPad612-iPad612, iPadAirCellular-iPadAirCellular, iPadPro-iPadPro, iPadFourthGen-iPadFourthGen, iPhone6Plus-iPhone6Plus, iPodTouchSixthGen-iPodTouchSixthGen, iPad73-iPad73, iPadThirdGen-iPadThirdGen, iPad74-iPad74, iPadAir2Cellular-iPadAir2Cellular, iPadFourthGen4G-iPadFourthGen4G, iPhoneX-iPhoneX, iPadMini4Cellular-iPadMini4Cellular, iPhone6-iPhone6, iPhoneSE-iPhoneSE, iPadProCellular-iPadProCellular, iPadMini3Cellular-iPadMini3Cellular, iPadMiniRetina-iPadMiniRetina, iPadPro97-iPadPro97, iPadMiniRetinaCellular-iPadMiniRetinaCellular, iPadMini3-iPadMini3, iPad23G-iPad23G, iPad611-iPad611, iPadMini-iPadMini, iPhone7Plus-iPhone7Plus, iPad71-iPad71, iPhone6sPlus-iPhone6sPlus, iPadMini4G-iPadMini4G, iPodTouchFifthGen-iPodTouchFifthGen, iPhone6s-iPhone6s, iPadThirdGen4G-iPadThirdGen4G, iPadPro97Cellular-iPadPro97Cellular, iPhone7-iPhone7, iPadMini4-iPadMini4, iPad2Wifi-iPad2Wifi, iPhone5s-iPhone5s, iPhone8Plus-iPhone8Plus
Note: If you are using device with Windows Phone or Android operation system, please scan the qr code
Use your smartphone to scan the QR CODE above to download this application
Screenshot of Limelight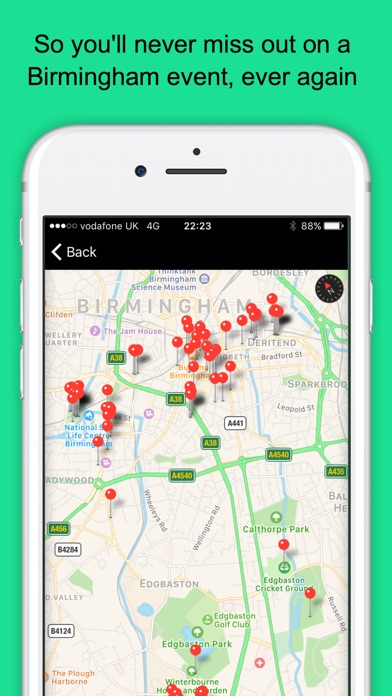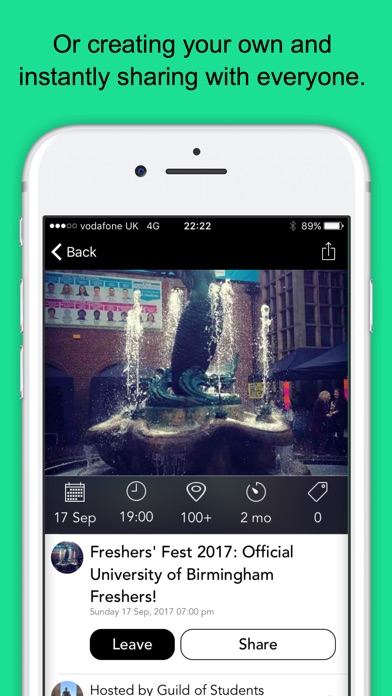 Share Limelight with your friends !
What is new in Limelight?
Over 2500 University of Birmingham students have downloaded Limelight already!

Developed by a two University of Birmingham students in a Selly Oak flat, Limelight is the only app to show you every university event going on around you in real time!

• Our Live feed displays every University of Birmingham and nightlife event so you never miss out again!

• Every event is interactive. Chat directly with event hosts and other like-minded individuals!

• Promote your own/society events instantly on our live feed for all to see! For free!

We'd love to hear your feedback! Drop us a line at team@limelight.support or tweet us @App_Limelight.
---
Leave a comment
Games and apps related to Social Networking
Latest free apps and games