Download Lose Weight - Calorie Counter 1.15 for iPhone & iPad

Category: Health & Fitness, Food & Drink,
Name: Lose Weight - Calorie Counter
Version: 1.15
Download size: 40.94 MB
Date: 2015-04-03T09:17:54Z
Publisher: GARMONIK SOFT, OOO
Rating: 4+
License: Free
Compatible devices: iPhone6s-iPhone6s, iPad611-iPad611, iPhone6-iPhone6, iPhone4-iPhone4, iPadMini4-iPadMini4, iPad74-iPad74, iPadMini-iPadMini, iPodTouchFifthGen-iPodTouchFifthGen, iPadMini3Cellular-iPadMini3Cellular, iPhone7-iPhone7, iPad72-iPad72, iPad612-iPad612, iPhone8Plus-iPhone8Plus, iPadPro97Cellular-iPadPro97Cellular, iPadAirCellular-iPadAirCellular, iPhoneX-iPhoneX, iPadProCellular-iPadProCellular, iPad73-iPad73, iPhone6sPlus-iPhone6sPlus, iPadThirdGen4G-iPadThirdGen4G, iPadMini3-iPadMini3, iPhone5c-iPhone5c, iPadPro97-iPadPro97, iPad71-iPad71, iPadAir2Cellular-iPadAir2Cellular, iPhone8-iPhone8, iPhone4S-iPhone4S, iPadMiniRetinaCellular-iPadMiniRetinaCellular, iPhone6Plus-iPhone6Plus, iPad2Wifi-iPad2Wifi, iPadPro-iPadPro, iPadAir2-iPadAir2, iPadMini4Cellular-iPadMini4Cellular, iPadFourthGen-iPadFourthGen, iPadThirdGen-iPadThirdGen, iPadMini4G-iPadMini4G, iPad23G-iPad23G, iPadMiniRetina-iPadMiniRetina, iPhone5-iPhone5, iPodTouchSixthGen-iPodTouchSixthGen, iPhone7Plus-iPhone7Plus, iPadAir-iPadAir, iPadFourthGen4G-iPadFourthGen4G, iPhoneSE-iPhoneSE, iPhone5s-iPhone5s
Note: If you are using device with Windows Phone or Android operation system, please scan the qr code
Use your smartphone to scan the QR CODE above to download this application
Screenshot of Lose Weight - Calorie Counter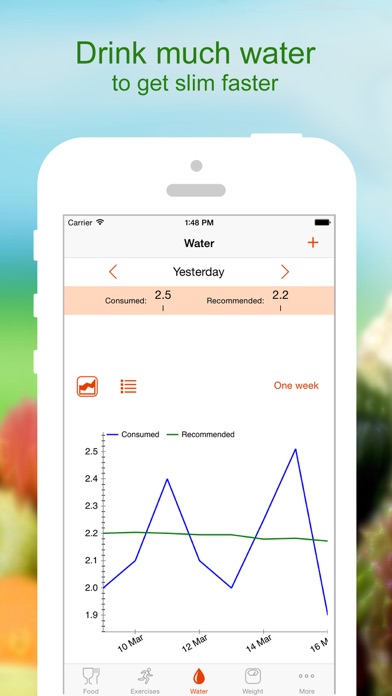 Share Lose Weight - Calorie Counter with your friends !
What is new in Lose Weight - Calorie Counter?
Start eating healthy and losing weight with "Lose weight" app!

- 11 diet plans, 50,000 foods, 100 exercises
- Food, exercise and weight diary
- Water consumption tracking

"Lose weight" is your personal assistant helping you to achieve your weight loss goals quickly!

The app has workout logs to keep track of daily physical activity, useful charts of weight and other body measurements, and other tools to facilitate weight control. You enter information about the daily meals and the system gives tips on regulation of physical activities and balanced nutrition.

"Lose Weight" is more than just a calorie counter. This revolutionary new app will also give you countless hints and insider tricks on how to lose weight in a healthy way!

Lose Weight App offers the following unique and helpful features:

–Daily charts to track proteins, fats, carbs;
–Timeline progress of your bust, waist, and hips measurements;
–Water consumption tracking;
–Reminders to eat and to drink;
–Writing notes;
–Recipes of popular foods;
–Setup your own dishes and exercises;
–Scheduling of meals and exercises;
–Predefined weight loss plans including foods and exercises.
Tag: Lose Weight - Calorie Counter , Lose Weight - Calorie Counter
---
Leave a comment
Games and apps related to Health & Fitness