Download Netffice 24 1.2.2 for iPhone & iPad
Category: Productivity, Utilities,
Name: Netffice 24
Version: 1.2.2
Download size: 25.68 MB
Date: 2015-06-15T09:22:29Z
Publisher: Hancom Communication, Inc.
Rating: 4+
License: Free
Compatible devices: iPadMiniRetina-iPadMiniRetina, iPhone7Plus-iPhone7Plus, iPadPro97-iPadPro97, iPad71-iPad71, iPhone6sPlus-iPhone6sPlus, iPhoneX-iPhoneX, iPhone6Plus-iPhone6Plus, iPadProCellular-iPadProCellular, iPhone7-iPhone7, iPad612-iPad612, iPad73-iPad73, iPadMini4-iPadMini4, iPadMini3-iPadMini3, iPadAir2Cellular-iPadAir2Cellular, iPhoneSE-iPhoneSE, iPadPro-iPadPro, iPadPro97Cellular-iPadPro97Cellular, iPhone8Plus-iPhone8Plus, iPadMini4Cellular-iPadMini4Cellular, iPad611-iPad611, iPadMini3Cellular-iPadMini3Cellular, iPadAir2-iPadAir2, iPodTouchSixthGen-iPodTouchSixthGen, iPhone8-iPhone8, iPad72-iPad72, iPadMiniRetinaCellular-iPadMiniRetinaCellular, iPadAir-iPadAir, iPhone6-iPhone6, iPhone6s-iPhone6s, iPhone5s-iPhone5s, iPadAirCellular-iPadAirCellular, iPad74-iPad74
Note: If you are using device with Windows Phone or Android operation system, please scan the qr code
Use your smartphone to scan the QR CODE above to download this application
Screenshot of Netffice 24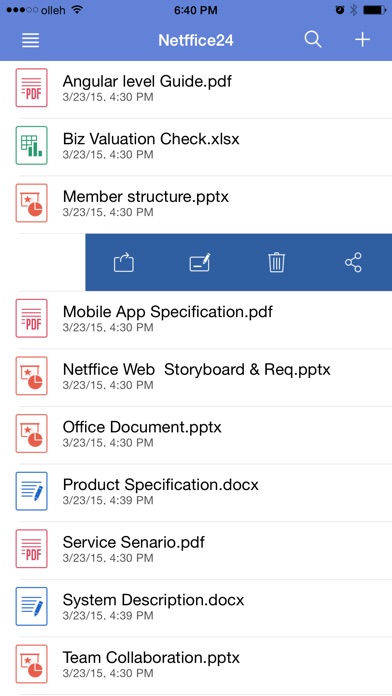 Share Netffice 24 with your friends !
What is new in Netffice 24?
Netffice 24 is an easy and convenient cloud service that can be in one place make all the things you want.
By default, it provides free online storage and can upload your data. Also you can easily connect another cloud storages to Netffice 24 such as Dropbox, OneDrive, or Evernote and then, all your data can be managed in one place. When you save your files to Netffice 24, you can easily and conveniently access them anytime, anywhere!
- Use the same account for all your devices.
- Provide to view Microsoft Office documents for free.
- Easily view and edit your Microsoft Office documents in the web browser and save them right away to the online storage.
- Share your files to cloud storage and edit simultaneous with others.
- Easy to connect to other cloud services you used before, and manage your data in one place.
- Copy, move, delete, rename files, and create new folders.
- Quickly view the documents you've recently opened.
- Search files with simple keyword on all connected online services.
- Compatible with Microsoft Office document formats (doc, docx, xls, xlsx, ppt, pptx).

Notice of Access permission used in Netffice 24
[Required access permission]
None
[Optional access permission]
- Photo: Access to Photo or video for uploading the files to Netffice 24 cloud storage.
* "Allow" or "OK" is required only when using the function.
Tag: Netffice 24 , Netffice 24
---
Leave a comment
Games and apps related to Productivity