Download Paint for Apple TV 1.1 for iPhone & iPad
Category: Utilities, Entertainment,
Name: Paint for Apple TV
Version: 1.1
Download size: 294.75 KB
Date: 2011-07-26T23:32:08Z
Publisher: Tommy Connolly
Rating: 4+
License: $0.99
Compatible devices: iPadAir-iPadAir, iPhone5s-iPhone5s, iPhoneSE-iPhoneSE, iPodTouchSixthGen-iPodTouchSixthGen, iPadPro97Cellular-iPadPro97Cellular, iPadAirCellular-iPadAirCellular, iPadFourthGen-iPadFourthGen, iPhone4S-iPhone4S, iPad3G-iPad3G, iPhone5-iPhone5, iPad74-iPad74, iPhone3GS-iPhone-3GS, iPadPro97-iPadPro97, iPodTouchFourthGen-iPodTouchFourthGen, iPad2Wifi-iPad2Wifi, iPadWifi-iPadWifi, iPad23G-iPad23G, iPadThirdGen-iPadThirdGen, iPhone8-iPhone8, iPhone6sPlus-iPhone6sPlus, iPhone5c-iPhone5c, iPhone6-iPhone6, iPadMini4-iPadMini4, iPhone4-iPhone4, iPhone6s-iPhone6s, iPhone7-iPhone7, iPhoneX-iPhoneX, iPadMini4G-iPadMini4G, iPadMiniRetinaCellular-iPadMiniRetinaCellular, iPodTouchFifthGen-iPodTouchFifthGen, iPhone7Plus-iPhone7Plus, iPadMini-iPadMini, iPadFourthGen4G-iPadFourthGen4G, iPodTouchThirdGen-iPodTouchThirdGen, iPadAir2-iPadAir2, iPadAir2Cellular-iPadAir2Cellular, iPadMini3-iPadMini3, iPadMini3Cellular-iPadMini3Cellular, iPadProCellular-iPadProCellular, iPadThirdGen4G-iPadThirdGen4G, iPad71-iPad71, iPad72-iPad72, iPhone6Plus-iPhone6Plus, iPadMiniRetina-iPadMiniRetina, iPad73-iPad73, iPad611-iPad611, iPad612-iPad612, iPadMini4Cellular-iPadMini4Cellular, iPadPro-iPadPro, iPhone8Plus-iPhone8Plus
Note: If you are using device with Windows Phone or Android operation system, please scan the qr code
Use your smartphone to scan the QR CODE above to download this application
Screenshot of Paint for Apple TV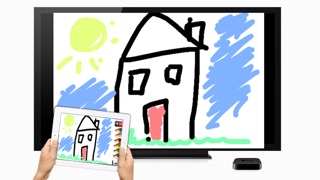 Share Paint for Apple TV with your friends !
What is new in Paint for Apple TV?
A simple fun drawing app for your Apple TV

FEATURES
- Draw with different colors
- Save image to Photos app
- Larger screen size on your TV when using AirPlay mirroring

Please make sure that your Apple TV and iOS devices are airplay-supported.
Tag: Paint for Apple TV , Paint for Apple TV
---
Leave a comment
Games and apps related to Utilities