Download Perth,Western Australia 1.1.6 for iPhone & iPad

Category: Travel,
Name: Perth,Western Australia
Version: 1.1.6
Download size: 23.09 MB
Date: 2015-06-08T15:25:51Z
Publisher: WeAGoo s.r.l.
Rating: 4+
License: Free
Compatible devices: iPad612-iPad612, iPadAirCellular-iPadAirCellular, iPhone8Plus-iPhone8Plus, iPadPro97Cellular-iPadPro97Cellular, iPadMiniRetina-iPadMiniRetina, iPhone5s-iPhone5s, iPad71-iPad71, iPadMini3-iPadMini3, iPadAir2Cellular-iPadAir2Cellular, iPad23G-iPad23G, iPhone7-iPhone7, iPadThirdGen4G-iPadThirdGen4G, iPadMiniRetinaCellular-iPadMiniRetinaCellular, iPhoneSE-iPhoneSE, iPad73-iPad73, iPodTouchFifthGen-iPodTouchFifthGen, iPhone7Plus-iPhone7Plus, iPadMini4Cellular-iPadMini4Cellular, iPhoneX-iPhoneX, iPadFourthGen4G-iPadFourthGen4G, iPhone5c-iPhone5c, iPhone4S-iPhone4S, iPhone6s-iPhone6s, iPhone6sPlus-iPhone6sPlus, iPadPro-iPadPro, iPadProCellular-iPadProCellular, iPad74-iPad74, iPadPro97-iPadPro97, iPadAir2-iPadAir2, iPad611-iPad611, iPhone6Plus-iPhone6Plus, iPadMini4-iPadMini4, iPadMini-iPadMini, iPad72-iPad72, iPadMini4G-iPadMini4G, iPodTouchSixthGen-iPodTouchSixthGen, iPadFourthGen-iPadFourthGen, iPad2Wifi-iPad2Wifi, iPadMini3Cellular-iPadMini3Cellular, iPhone5-iPhone5, iPadAir-iPadAir, iPadThirdGen-iPadThirdGen, iPhone8-iPhone8, iPhone6-iPhone6
Note: If you are using device with Windows Phone or Android operation system, please scan the qr code
Use your smartphone to scan the QR CODE above to download this application
Screenshot of Perth,Western Australia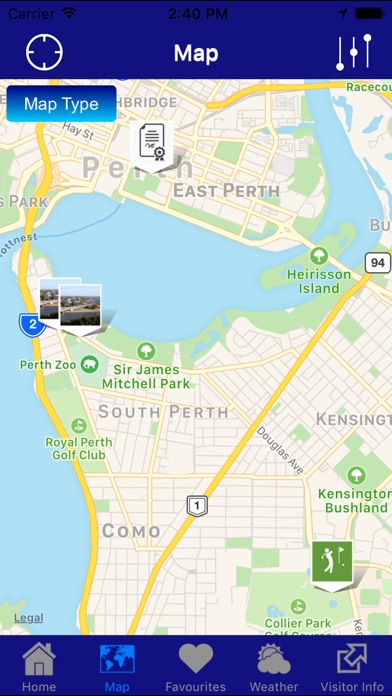 Share Perth,Western Australia with your friends !
What is new in Perth,Western Australia?
Travel guide to Perth,Western Australia

Perth is the Capital City of Western Australia (WA). The Perth Map App provides visitors to the City of Perth with a useful guide to many features of interest to visitors.

The Perth Map App includes many handy categories such as Free Wireless locations, and direct links to important event calendars (cultural and entertainment) held in the City throughout the year, and much more.

The location and distance of features are marked on the Perth Map App along with short summaries and a descriptive icon. Perth transport options and a 4 day Perth weather forecast are provided. The Perth Map App contains a search engine and a Favourites button to list items of personal interest for your travel itinerary.

The App integrates with Google Maps with GPS distances and directions to all features. Contact information for bookings or enquiries are provided. Email addresses and phone numbers are auto filled to save you time.

The App works best in conjunction with our FREE Fremantle Western Australia Map- App. (The historic Port City of Fremantle is just a 20 minutes drive from the City of Perth).
Tag: Perth,Western Australia , Perth , Western Australia
---
Leave a comment
Games and apps related to Travel