Download Picture Puzzler - Animals 1.7 for iPhone & iPad

Category: Entertainment, Games, Family, Puzzle,
Name: Picture Puzzler - Animals
Version: 1.7
Download size: 66.61 MB
Date: 2015-06-04T16:55:02Z
Publisher: Richard Knight
Rating: 4+
License: $0.99
Compatible devices: iPhone6-iPhone6, iPhone7-iPhone7, iPadThirdGen-iPadThirdGen, iPad73-iPad73, iPadMini4G-iPadMini4G, iPhone5c-iPhone5c, iPad74-iPad74, iPhone5-iPhone5, iPadFourthGen4G-iPadFourthGen4G, iPadPro97-iPadPro97, iPhone4S-iPhone4S, iPhone4-iPhone4, iPhone6sPlus-iPhone6sPlus, iPhone8-iPhone8, iPodTouchFifthGen-iPodTouchFifthGen, iPhone5s-iPhone5s, iPad611-iPad611, iPhone7Plus-iPhone7Plus, iPad23G-iPad23G, iPadMini4Cellular-iPadMini4Cellular, iPadPro97Cellular-iPadPro97Cellular, iPadProCellular-iPadProCellular, iPadPro-iPadPro, iPadThirdGen4G-iPadThirdGen4G, iPadMini-iPadMini, iPadAirCellular-iPadAirCellular, iPadAir-iPadAir, iPhone8Plus-iPhone8Plus, iPad71-iPad71, iPadMini3Cellular-iPadMini3Cellular, iPodTouchSixthGen-iPodTouchSixthGen, iPadMiniRetina-iPadMiniRetina, iPhone6Plus-iPhone6Plus, iPad2Wifi-iPad2Wifi, iPadMiniRetinaCellular-iPadMiniRetinaCellular, iPadFourthGen-iPadFourthGen, iPhone6s-iPhone6s, iPadMini4-iPadMini4, iPhoneX-iPhoneX, iPadAir2-iPadAir2, iPad72-iPad72, iPad612-iPad612, iPadMini3-iPadMini3, iPhoneSE-iPhoneSE, iPadAir2Cellular-iPadAir2Cellular
Note: If you are using device with Windows Phone or Android operation system, please scan the qr code
Use your smartphone to scan the QR CODE above to download this application
Screenshot of Picture Puzzler - Animals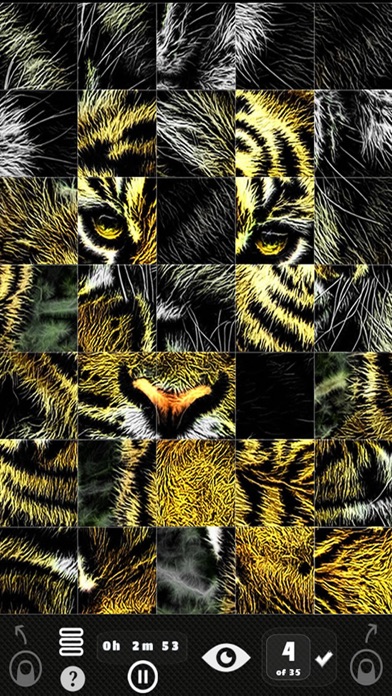 Share Picture Puzzler - Animals with your friends !
What is new in Picture Puzzler - Animals?
Picture Puzzler is a collection of photos based on a theme which are made into puzzles. They are cut as tiles and then they are switched and rotated to form a puzzle. There are 20 ad free animal picture puzzles with a total of 35 tiles in each set.

Take a look at the video at Ksoftmedia.com and look out for more themes that will be available for download from the App store.
Tag: Picture Puzzler - Animals , Picture Puzzler - Animals
---
Leave a comment
Games and apps related to Entertainment