Download Pow - Take care of lovely babies pets games 3.2 for iPhone & iPad
Category: Games, Entertainment, Family,
Name: Pow - Take care of lovely babies pets games
Version: 3.2
Download size: 203.84 MB
Date: 2015-05-30T14:16:08Z
Publisher: Clement Vitroly
Rating: 4+
License: Free
Compatible devices: iPhone6-iPhone6, iPhone6sPlus-iPhone6sPlus, iPadAirCellular-iPadAirCellular, iPad612-iPad612, iPadMini-iPadMini, iPad72-iPad72, iPhone6s-iPhone6s, iPadMini4-iPadMini4, iPadAir2Cellular-iPadAir2Cellular, iPad73-iPad73, iPhoneSE-iPhoneSE, iPadMini3Cellular-iPadMini3Cellular, iPad74-iPad74, iPodTouchSixthGen-iPodTouchSixthGen, iPhone4S-iPhone4S, iPhoneX-iPhoneX, iPadMiniRetinaCellular-iPadMiniRetinaCellular, iPadProCellular-iPadProCellular, iPadThirdGen4G-iPadThirdGen4G, iPhone8-iPhone8, iPadPro-iPadPro, iPhone8Plus-iPhone8Plus, iPadAir2-iPadAir2, iPadThirdGen-iPadThirdGen, iPadAir-iPadAir, iPadMini4Cellular-iPadMini4Cellular, iPhone6Plus-iPhone6Plus, iPhone5c-iPhone5c, iPadFourthGen-iPadFourthGen, iPadMini4G-iPadMini4G, iPadMiniRetina-iPadMiniRetina, iPhone7Plus-iPhone7Plus, iPadPro97Cellular-iPadPro97Cellular, iPhone7-iPhone7, iPhone5s-iPhone5s, iPodTouchFourthGen-iPodTouchFourthGen, iPadPro97-iPadPro97, iPad71-iPad71, iPhone3GS-iPhone-3GS, iPad23G-iPad23G, iPad611-iPad611, iPad2Wifi-iPad2Wifi, iPhone5-iPhone5, iPadFourthGen4G-iPadFourthGen4G, iPhone4-iPhone4, iPadMini3-iPadMini3, iPodTouchFifthGen-iPodTouchFifthGen
Note: If you are using device with Windows Phone or Android operation system, please scan the qr code
Use your smartphone to scan the QR CODE above to download this application
Screenshot of Pow - Take care of lovely babies pets games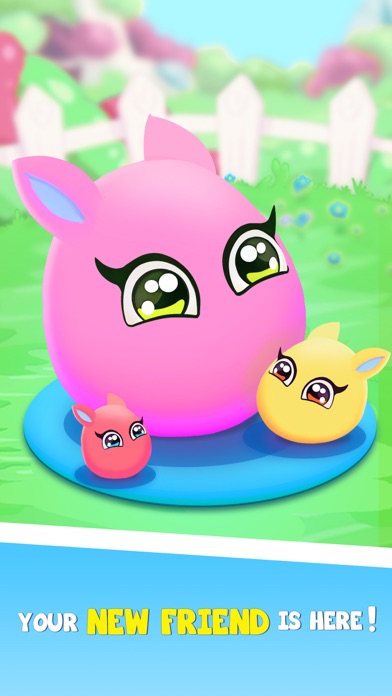 Share Pow - Take care of lovely babies pets games with your friends !
What is new in Pow - Take care of lovely babies pets games?
Adopt Pow and take care of this virtual pet too cute !

Inspired by the famous Tamagotchi games, these pets are adopted, you must take care of them and educate them ! They are too nice, we want to pamper them.
Become his unique companion !
This game is ideal for children, girls as boys who want to look after a funny and smiling animal and it's free !

CHARACTERISTICS :

- 8 fun mini-games with diamonds to win to look after your cute animals !
- 150 levels to unlock funny clothes or elegant decorations to make Pow happy !
- 450+ nice customizations to make your pet too cute !
- 550+ pretty different scenery so that the home of Pow is unique and beautiful !
- 1 challenge per day to win diamonds or fabulous stickers !
- 30 funny stickers to collect !

As for your plush, give a name to your pet, this strange and bizarre domestic animal that is too cute !
You have to adopt it, feed it, dress it, pamper it, be cuddly and also care for it to make him happy and smiling.

- NOURISH him. Buy fruits or pick fruit in mini games, it's funny and fun !
- DRESS carefully. Change your color, your friend wants a great look too cute and be pretty like you! He will be happy !
- CURE with strange potion magic !
- TCKLE him, as affectionate as with your plush, these reactions are too funny !
- SPORT, your animal can play hula-hoop, it's cute and fun !
- SLEEP, if your friend is fatigued, be cuddly as with your plush, it is cute !
- CUSTOMIZE her room, your cute virtual pets will be happy !

FOR THE PARENTS :

This game is FREE, it is ideal for boys or girls of any age. It allows your children to adopt a companion, to develop their creativity and to learn while having fun and it's free !

It's up to you to take care of this rare and cuddly virtual animal, to be nice to pamper and take care of it as if it were your baby tamagotchi !
Tag: Pow - Take care of lovely babies pets games , Pow - Take care of lovely babies pets games
---
Leave a comment
Games and apps related to Games
Latest free apps and games