Download Pregnancy Doctor Simulator - Newborn Baby Care 1.4 for iPhone & iPad
Category: Games, Education, Family, Role Playing,
Name: Pregnancy Doctor Simulator - Newborn Baby Care
Version: 1.4
Download size: 54.71 MB
Date: 2015-07-23T04:11:31Z
Publisher: Mommy and Me Inc
Rating: 4+
License: Free
Compatible devices: iPadMiniRetina-iPadMiniRetina, iPadAir2Cellular-iPadAir2Cellular, iPadMini-iPadMini, iPadMini4-iPadMini4, iPadThirdGen4G-iPadThirdGen4G, iPad612-iPad612, iPhone6sPlus-iPhone6sPlus, iPadProCellular-iPadProCellular, iPhone8-iPhone8, iPhone7Plus-iPhone7Plus, iPadFourthGen4G-iPadFourthGen4G, iPad74-iPad74, iPhone3GS-iPhone-3GS, iPhone7-iPhone7, iPadAirCellular-iPadAirCellular, iPhone5s-iPhone5s, iPad73-iPad73, iPhone6s-iPhone6s, iPadMini3-iPadMini3, iPadMini4Cellular-iPadMini4Cellular, iPodTouchFifthGen-iPodTouchFifthGen, iPhone5c-iPhone5c, iPadAir2-iPadAir2, iPad72-iPad72, iPadMiniRetinaCellular-iPadMiniRetinaCellular, iPad71-iPad71, iPhone6-iPhone6, iPhoneX-iPhoneX, iPadMini3Cellular-iPadMini3Cellular, iPhone5-iPhone5, iPhone4S-iPhone4S, iPhone8Plus-iPhone8Plus, iPadPro97Cellular-iPadPro97Cellular, iPodTouchSixthGen-iPodTouchSixthGen, iPadMini4G-iPadMini4G, iPadThirdGen-iPadThirdGen, iPhone4-iPhone4, iPhone6Plus-iPhone6Plus, iPhoneSE-iPhoneSE, iPadFourthGen-iPadFourthGen, iPadAir-iPadAir, iPad2Wifi-iPad2Wifi, iPad611-iPad611, iPodTouchFourthGen-iPodTouchFourthGen, iPadPro97-iPadPro97, iPad23G-iPad23G, iPadPro-iPadPro
Note: If you are using device with Windows Phone or Android operation system, please scan the qr code
Use your smartphone to scan the QR CODE above to download this application
Screenshot of Pregnancy Doctor Simulator - Newborn Baby Care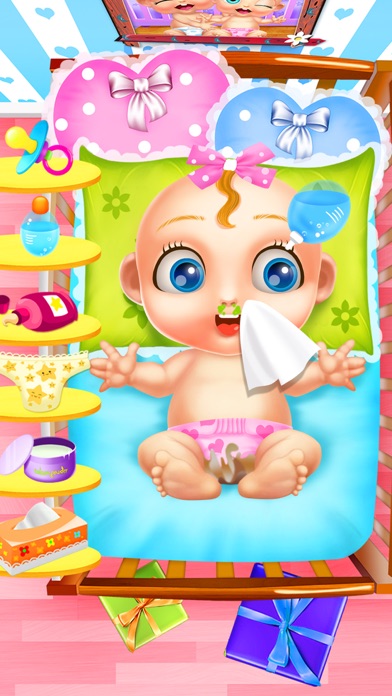 Share Pregnancy Doctor Simulator - Newborn Baby Care with your friends !
What is new in Pregnancy Doctor Simulator - Newborn Baby Care?
Share the joy of mommy's journey by caring for a newborn baby! In Baby Care 3, you get to be the mommy! The newborn's mommy and daddy are working hard all day long and they need a professional like you to take care of their little bundle of joy while they're at work. Taking care of a baby is hard work, but the baby needs you to make sure its happy and healthy! Newborn babies need you to change their diaper, feed them, clean them, dress them, and more. When baby is napping, help mommy out around the house: decorate the baby's room with stickers and put together puzzle pictures of baby! This precious little baby is counting on you! Busy mommy will sure appreciate all your help on her baby's journey to getting big and strong!

Product Features:
- Share the joy and journey of being a mommy in this baby care game.
- Easy to use controls for kids to play.
- Includes 9 different activities to care for baby and play mini games.
- Experience being a mommy by cleaning, feeding, and dressing the baby.
- Decorate the baby's room for busy mommy with stickers!
- Play mini games: catch lady bugs, find hidden objects, do puzzles, and match sounds to pictures.
- Fun game that is also educational, developing important skills through mini games.

How to Play:
Use interactive controls to play the game.
Take care of the baby by dressing, cleaning, and feeding her.
Decorate the baby's room and play mini games like puzzles.
Tag: Pregnancy Doctor Simulator - Newborn Baby Care , Pregnancy Doctor Simulator - Newborn Baby Care
---
Leave a comment
Games and apps related to Games
Latest free apps and games