Download Qilive Smart Center 5.8.1 for iPhone & iPad
Category: Entertainment, Utilities,
Name: Qilive Smart Center
Version: 5.8.1
Download size: 47.89 MB
Date: 2015-06-16T00:09:19Z
Publisher: Cabot Communications Limited
Rating: 9+
License: Free
Compatible devices: iPhone7-iPhone7, iPadMiniRetinaCellular-iPadMiniRetinaCellular, iPadFourthGen4G-iPadFourthGen4G, iPhone5-iPhone5, iPodTouchFifthGen-iPodTouchFifthGen, iPadMini3Cellular-iPadMini3Cellular, iPadPro-iPadPro, iPad74-iPad74, iPadThirdGen4G-iPadThirdGen4G, iPhone8Plus-iPhone8Plus, iPadMini4G-iPadMini4G, iPhone6s-iPhone6s, iPadPro97Cellular-iPadPro97Cellular, iPadAirCellular-iPadAirCellular, iPadMini-iPadMini, iPodTouchSixthGen-iPodTouchSixthGen, iPadThirdGen-iPadThirdGen, iPhone5c-iPhone5c, iPhone6Plus-iPhone6Plus, iPad73-iPad73, iPadFourthGen-iPadFourthGen, iPad23G-iPad23G, iPad2Wifi-iPad2Wifi, iPhoneX-iPhoneX, iPadMini4Cellular-iPadMini4Cellular, iPadMini4-iPadMini4, iPhone6sPlus-iPhone6sPlus, iPhone8-iPhone8, iPad72-iPad72, iPadProCellular-iPadProCellular, iPhoneSE-iPhoneSE, iPad71-iPad71, iPadMiniRetina-iPadMiniRetina, iPhone7Plus-iPhone7Plus, iPhone4S-iPhone4S, iPhone4-iPhone4, iPhone5s-iPhone5s, iPadPro97-iPadPro97, iPad611-iPad611, iPadAir-iPadAir, iPad612-iPad612, iPadMini3-iPadMini3, iPadAir2Cellular-iPadAir2Cellular, iPhone6-iPhone6, iPadAir2-iPadAir2
Note: If you are using device with Windows Phone or Android operation system, please scan the qr code
Use your smartphone to scan the QR CODE above to download this application
Screenshot of Qilive Smart Center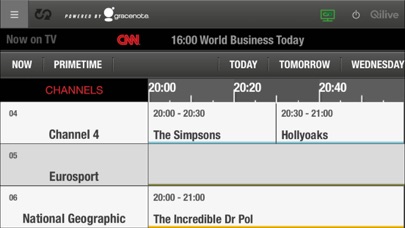 Share Qilive Smart Center with your friends !
What is new in Qilive Smart Center?
Qilive Smart Center application is dedicated to Qilive SmarTVs to increase TV viewing experience. The application allows you to easily share the media content on your mobile device to your TV and watch the content on TV using its FollowMe TV technology.

Smart Center also syncs with your TV, provide comprehensive Electronic Program Guide and allow full control of your TV even with your voice. By this way, you can record or remind your desired programs over the application. Using SocialTV functionality, you may access to social services such as Twitter and Facebook.
Tag: Qilive Smart Center , Qilive Smart Center
---
Leave a comment
Games and apps related to Entertainment