Download R6:Siege Stat 1.2.1 for iPhone & iPad
Category: Productivity, Utilities,
Name: R6:Siege Stat
Version: 1.2.1
Download size: 37.63 MB
Date: 2017-11-06T06:00:28Z
Publisher: Patrik Velekey
Rating: 12+
License: $0.99
Compatible devices: iPad71-iPad71, iPodTouchSixthGen-iPodTouchSixthGen, iPadMini4-iPadMini4, iPad74-iPad74, iPhone8Plus-iPhone8Plus, iPhoneX-iPhoneX, iPad611-iPad611, iPad73-iPad73, iPhone6sPlus-iPhone6sPlus, iPad612-iPad612, iPadFourthGen4G-iPadFourthGen4G, iPhone5-iPhone5, iPhone8-iPhone8, iPhone5s-iPhone5s, iPhoneSE-iPhoneSE, iPhone6Plus-iPhone6Plus, iPadMini3-iPadMini3, iPadPro97Cellular-iPadPro97Cellular, iPad72-iPad72, iPadMini3Cellular-iPadMini3Cellular, iPadAirCellular-iPadAirCellular, iPhone5c-iPhone5c, iPadAir-iPadAir, iPadPro-iPadPro, iPhone6-iPhone6, iPadMiniRetina-iPadMiniRetina, iPadMini4Cellular-iPadMini4Cellular, iPhone6s-iPhone6s, iPadProCellular-iPadProCellular, iPadMiniRetinaCellular-iPadMiniRetinaCellular, iPadPro97-iPadPro97, iPhone7-iPhone7, iPhone7Plus-iPhone7Plus, iPadFourthGen-iPadFourthGen, iPadAir2Cellular-iPadAir2Cellular, iPadAir2-iPadAir2
Note: If you are using device with Windows Phone or Android operation system, please scan the qr code
Use your smartphone to scan the QR CODE above to download this application
Screenshot of R6:Siege Stat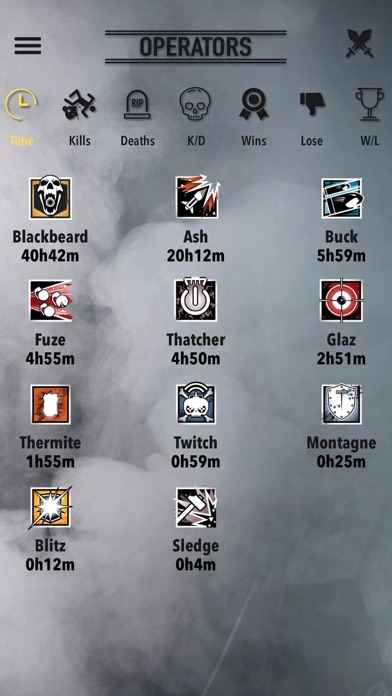 Share R6:Siege Stat with your friends !
What is new in R6:Siege Stat?
Using this app you will always have the status of your profile at hand, you can see your rank and level. See Rainbow Six: Siege on all the elements of your game (win, lose, kill, death, headshots, etc.) In a separate menu you can see how your operators perform, who good and who not. In a separate menu, you can view your Casual and Ranked results, your operator's detailed statistics. Leaderboard and compare with your follows.
Tag: R6:Siege Stat , R6 , Siege Stat
---
Leave a comment
Games and apps related to Productivity