Download Sift Lite - Gesture based email triage for all your mailboxes 1.0.3 for iPhone & iPad
Category: Productivity, Utilities,
Name: Sift Lite - Gesture based email triage for all your mailboxes
Version: 1.0.3
Download size: 7.72 MB
Date: 2015-02-13T00:38:38Z
Publisher: Appstafarian Limited
Rating: 4+
License: Free
Compatible devices: iPadFourthGen4G-iPadFourthGen4G, iPadMiniRetinaCellular-iPadMiniRetinaCellular, iPadAir2Cellular-iPadAir2Cellular, iPadMini3-iPadMini3, iPadMini4G-iPadMini4G, iPodTouchFifthGen-iPodTouchFifthGen, iPad72-iPad72, iPhone5-iPhone5, iPadThirdGen-iPadThirdGen, iPadPro97Cellular-iPadPro97Cellular, iPadMini-iPadMini, iPad612-iPad612, iPadPro97-iPadPro97, iPadThirdGen4G-iPadThirdGen4G, iPadMini4-iPadMini4, iPhone7-iPhone7, iPhone8Plus-iPhone8Plus, iPhone7Plus-iPhone7Plus, iPodTouchSixthGen-iPodTouchSixthGen, iPad71-iPad71, iPadAir2-iPadAir2, iPhone5c-iPhone5c, iPadPro-iPadPro, iPadMiniRetina-iPadMiniRetina, iPhone8-iPhone8, iPadAir-iPadAir, iPad611-iPad611, iPad23G-iPad23G, iPad2Wifi-iPad2Wifi, iPhone6Plus-iPhone6Plus, iPadFourthGen-iPadFourthGen, iPhone6-iPhone6, iPad74-iPad74, iPhone6sPlus-iPhone6sPlus, iPhone4S-iPhone4S, iPhoneX-iPhoneX, iPhone5s-iPhone5s, iPadAirCellular-iPadAirCellular, iPad73-iPad73, iPadProCellular-iPadProCellular, iPadMini4Cellular-iPadMini4Cellular, iPhone6s-iPhone6s, iPadMini3Cellular-iPadMini3Cellular, iPhoneSE-iPhoneSE
Note: If you are using device with Windows Phone or Android operation system, please scan the qr code
Use your smartphone to scan the QR CODE above to download this application
Screenshot of Sift Lite - Gesture based email triage for all your mailboxes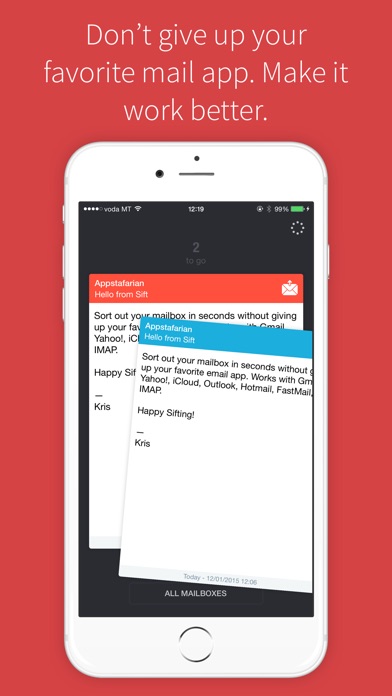 Share Sift Lite - Gesture based email triage for all your mailboxes with your friends !
What is new in Sift Lite - Gesture based email triage for all your mailboxes?
Sift is the perfect companion to your favorite email app. Sort out your mailbox in seconds using simple and customisable gestures. Works great with Gmail, Yahoo!, iCloud, Outlook.com, Hotmail, FastMail, IMAP, and other services.

- Curate all your mailboxes quickly with customizable gestures
- Unified mailbox
- Undo actions
- Snippets for super quick replies
- Assign color labels to your mailboxes
- Per account signatures
- Automatic reply salutations
- Supports two-factor/step authentication for Gmail accounts
- Message grouping by account
- Account grouping by color label
- Unlimited email aliases
- Customisable morning and evening notifications
- Send emails and message cards to your favorite apps to create tasks, notes, journal entries, reminders, and more
- Quick actions include: keep, mark as read, delete, archive, spam, snooze, and star
- Works great on iPhones and iPads

** Note: Sift Lite is fully featured and supports setting up to one email account.

If you're enjoying Sift, please find a moment to leave a review and tell your friends. It really, really helps.

Happy Sifting!
Tag: Sift Lite - Gesture based email triage for all your mailboxes , Sift Lite - Gesture based email triage for all your mailboxes
---
Leave a comment
Games and apps related to Productivity