Download T Usernames - For Tango Messenger 1.1 for iPhone & iPad
Category: Social Networking,
Name: T Usernames - For Tango Messenger
Version: 1.1
Download size: 4.57 MB
Date: 2015-01-09T00:32:56Z
Publisher: Ngoc Loi Nguyen
Rating: 17+
License: Free
Compatible devices: iPad71-iPad71, iPadThirdGen4G-iPadThirdGen4G, iPad2Wifi-iPad2Wifi, iPhone6-iPhone6, iPadMiniRetina-iPadMiniRetina, iPhone4-iPhone4, iPadMini4Cellular-iPadMini4Cellular, iPhone4S-iPhone4S, iPodTouchFifthGen-iPodTouchFifthGen, iPadProCellular-iPadProCellular, iPad73-iPad73, iPad23G-iPad23G, iPadMini3-iPadMini3, iPhone8-iPhone8, iPadFourthGen-iPadFourthGen, iPhone8Plus-iPhone8Plus, iPadAir-iPadAir, iPad611-iPad611, iPadPro97Cellular-iPadPro97Cellular, iPadAir2Cellular-iPadAir2Cellular, iPadAir2-iPadAir2, iPhoneSE-iPhoneSE, iPhone6Plus-iPhone6Plus, iPhone5c-iPhone5c, iPadPro-iPadPro, iPadMini4-iPadMini4, iPad612-iPad612, iPhone7Plus-iPhone7Plus, iPadMini3Cellular-iPadMini3Cellular, iPad74-iPad74, iPadAirCellular-iPadAirCellular, iPhone5s-iPhone5s, iPodTouchSixthGen-iPodTouchSixthGen, iPadMini4G-iPadMini4G, iPadMiniRetinaCellular-iPadMiniRetinaCellular, iPhone5-iPhone5, iPadFourthGen4G-iPadFourthGen4G, iPad72-iPad72, iPhone7-iPhone7, iPhone6sPlus-iPhone6sPlus, iPadPro97-iPadPro97, iPadThirdGen-iPadThirdGen, iPhoneX-iPhoneX, iPadMini-iPadMini, iPhone6s-iPhone6s
Note: If you are using device with Windows Phone or Android operation system, please scan the qr code
Use your smartphone to scan the QR CODE above to download this application
Screenshot of T Usernames - For Tango Messenger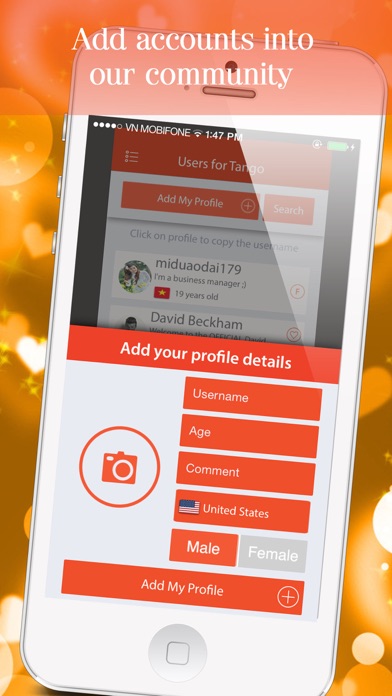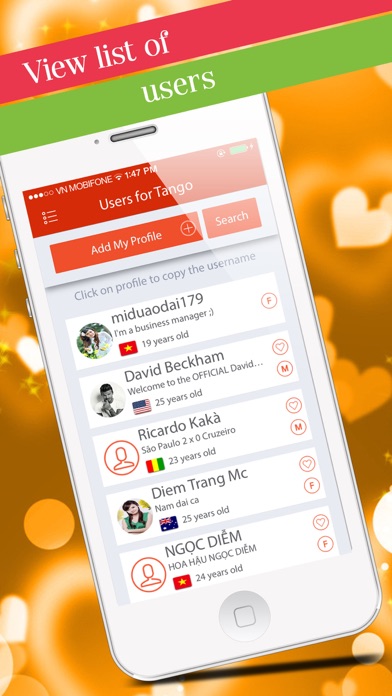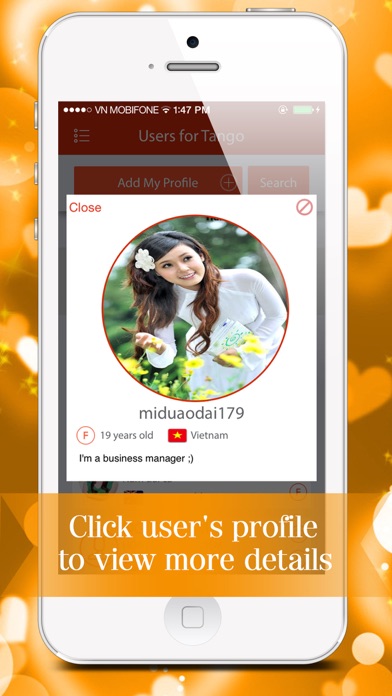 Share T Usernames - For Tango Messenger with your friends !
What is new in T Usernames - For Tango Messenger?
Join one of the largest online community of Tango users!

It couldn't be easier to make new friends on WhatsApp, browse our community that's the home to thousands of real Tango users!

There is no requirement to sign up, if you want to just browse then that's cool. If you want to join the community just simply add your username by tapping the add profile option!

Simply tap on a users profile and their username will be conveniently added to your clipboard to paste straight into Tango!

Use a simple swipe gesture to filter by male and female and also view our most popular users.

So what are you waiting for? Download and join our community today!

Please rate and review the app to tell us what you like and what would you like to be improved!
Tag: T Usernames - For Tango Messenger , T Usernames - For Tango Messenger
---
Leave a comment
Games and apps related to Social Networking
Latest free apps and games