Download Vivid Presenter - create and present straight to your Apple TV 2.2 for iPhone & iPad
Category: Productivity, Business,
Name: Vivid Presenter - create and present straight to your Apple TV
Version: 2.2
Download size: 18.34 MB
Date: 2015-08-10T16:53:44Z
Publisher: Florian Carls
Rating: 4+
License: $2.99
Compatible devices: iPhone5c-iPhone5c, iPadThirdGen-iPadThirdGen, iPadAir-iPadAir, iPadFourthGen-iPadFourthGen, iPhone7Plus-iPhone7Plus, iPhone8Plus-iPhone8Plus, iPad612-iPad612, iPadMini4Cellular-iPadMini4Cellular, iPadAir2-iPadAir2, iPodTouchFifthGen-iPodTouchFifthGen, iPadProCellular-iPadProCellular, iPhone5-iPhone5, iPhone6sPlus-iPhone6sPlus, iPadFourthGen4G-iPadFourthGen4G, iPad23G-iPad23G, iPadAir2Cellular-iPadAir2Cellular, iPhoneX-iPhoneX, iPad73-iPad73, iPadMini4G-iPadMini4G, iPadPro97Cellular-iPadPro97Cellular, iPhoneSE-iPhoneSE, iPadAirCellular-iPadAirCellular, iPhone6s-iPhone6s, iPhone5s-iPhone5s, iPadMini-iPadMini, iPad72-iPad72, iPhone6Plus-iPhone6Plus, iPadMini3-iPadMini3, iPhone6-iPhone6, iPadThirdGen4G-iPadThirdGen4G, iPadMiniRetinaCellular-iPadMiniRetinaCellular, iPhone4S-iPhone4S, iPad2Wifi-iPad2Wifi, iPad71-iPad71, iPodTouchSixthGen-iPodTouchSixthGen, iPadMini3Cellular-iPadMini3Cellular, iPadMini4-iPadMini4, iPhone8-iPhone8, iPadPro97-iPadPro97, iPhone7-iPhone7, iPad74-iPad74, iPad611-iPad611, iPadMiniRetina-iPadMiniRetina, iPadPro-iPadPro
Note: If you are using device with Windows Phone or Android operation system, please scan the qr code
Use your smartphone to scan the QR CODE above to download this application
Screenshot of Vivid Presenter - create and present straight to your Apple TV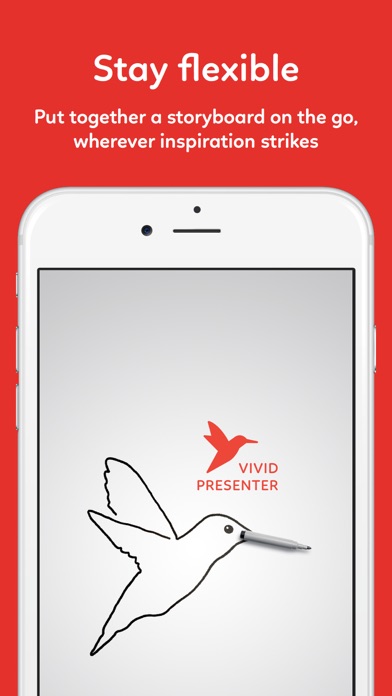 Share Vivid Presenter - create and present straight to your Apple TV with your friends !
What is new in Vivid Presenter - create and present straight to your Apple TV?
Key Features:

• Prepare and structure your content/story on your iOS device
• Present your talk quickly on the big screen using AirPlay
• Use Siri to create new slides in a snap without worrying about the layout
• See all the changes you make in real time on the big screen
• Export and share your slides as PDF or tweet individual slides
• Easily sync your story across your iCloud account
• Integrate single images and YouTube videos by inserting direct links
• Make it fun and include Emojis, beautiful fonts and colors
• Use your preferred document storage provider (i.e. iCloud, Dropbox etc.)
• No account needed to use app

Say goodbye to complicated layouts, tiny unreadable text and overloaded slides. Say hello to Vivid!

Vivid is a new approach to making presentations. We take care of the layout for you – allowing you to concentrate on more important things. Simply get some structure into your talk and create your key messages with Vivid, wherever you are. Then present it all from your mobile using AirPlay.

Prepare presentations, stories, speaker notes, playlists wherever you are using your iPhone, iPad or iPod touch and integrate rich content from the web quickly and easily wherever you are.

How it works: first get your ideas out into the storyboard and slides. Either type, copy/paste or use Siri. Edit, delete and hold to rearrange your slides and craft your talk. Don't worry about the layout or having to copy files to your device – just link to them.

Once you are connected using AirPlay you can see the changes you make to your slides immediately and live on the big screen. You will also be able to adjust and tweak the look of your presentation in real time. Activate additional controls to flip effortlessly through slides.

So now that you're set, you don't have to worry about big layout changes on your mobile device anymore and can focus entirely on the key messages you want your audience to remember.

Keep it simple, keep the audience curious, focused and engaged. Keep it Vivid!

Note to users: We are committed to driving a new, more engaging, more fluid approach to making presentations. As such we are constantly developing the app to further meet the needs of this vision and we continue to update on a regular basis. Updates are free of charge. Comments, feedback, ideas? We would love to hear from you!
Tag: Vivid Presenter - create and present straight to your Apple TV , Vivid Presenter - create and present straight to your Apple TV
---
Leave a comment
Games and apps related to Productivity