Download Water Pilot - GPS Navigation Information on your Pebble Smartwatch 1.1.2 for iPhone & iPad

Category: Navigation, Utilities,
Name: Water Pilot - GPS Navigation Information on your Pebble Smartwatch
Version: 1.1.2
Download size: 20.65 MB
Date: 2015-10-19T16:19:15Z
Publisher: LTS Technology Inc.
Rating: 4+
License: $12.99
Compatible devices: iPhone5s-iPhone5s, iPad74-iPad74, iPadProCellular-iPadProCellular, iPhone5c-iPhone5c, iPadPro97Cellular-iPadPro97Cellular, iPadAirCellular-iPadAirCellular, iPhoneSE-iPhoneSE, iPadMiniRetinaCellular-iPadMiniRetinaCellular, iPhone7Plus-iPhone7Plus, iPadMini3Cellular-iPadMini3Cellular, iPadFourthGen4G-iPadFourthGen4G, iPhoneX-iPhoneX, iPadThirdGen4G-iPadThirdGen4G, iPhone6Plus-iPhone6Plus, iPhone6-iPhone6, iPadMini4G-iPadMini4G, iPad72-iPad72, iPhone5-iPhone5, iPhone8Plus-iPhone8Plus, iPhone8-iPhone8, iPhone4-iPhone4, iPhone4S-iPhone4S, iPadMini4Cellular-iPadMini4Cellular, iPhone6s-iPhone6s, iPhone7-iPhone7, iPadAir2Cellular-iPadAir2Cellular, iPad23G-iPad23G, iPad612-iPad612, iPhone6sPlus-iPhone6sPlus
Note: If you are using device with Windows Phone or Android operation system, please scan the qr code
Use your smartphone to scan the QR CODE above to download this application
Screenshot of Water Pilot - GPS Navigation Information on your Pebble Smartwatch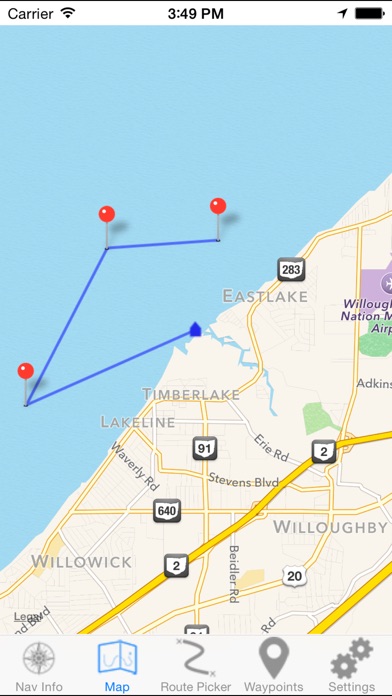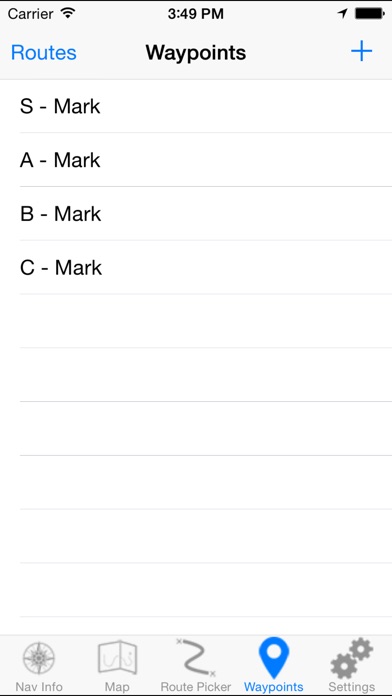 Share Water Pilot - GPS Navigation Information on your Pebble Smartwatch with your friends !
What is new in Water Pilot - GPS Navigation Information on your Pebble Smartwatch?
Water Pilot is an app that gives you all of your GPS based navigation information directly on your phone and on your Pebble Smart Watch. Water Pilot is designed from the ground up to work with the Pebble Smart Watch, and provides you all of the information you're used to seeing in traditional navigation instruments directly on your wrist and on your phone.

With Water Pilot, you have instant access to
-Speed and VMG
-Heading, Bearing, and the amount to adjust by
-ETA, and Distance remaining
-Latitude and Longitude
-A map showing you your current route, location, and direction

Designed in a way that takes full advantage of the abilities of your iPhone, Water Pilot is the easiest to use GPS navigation app that you have ever seen. Set up waypoints and save routes with a minimal number of taps. Navigate quickly between different views of your information through a simple and intuitive tab based interface. Simply install Water Pilot onto your Pebble smart watch through the Pebble app store, and Water Pilot on your phone will begin communicating with the Pebble without you needing to do anything more.

Water Pilot is built by boaters, for boaters, to give you the best experience possible while using navigation equipment. Whether you're sailing, canoeing, kayaking, jet skiing, motor boating, or anything else, Water Pilot is the best tool for the job.

Unlike other navigation apps, Water Pilot doesn't require you to keep your phone on you at all times while using it, if you use it with the Pebble smart watch. What this means is that you can keep your iPhone down below or in a dry bag, and still receive essential navigation information anywhere on the boat.

In addition, when using Water Pilot, there is no longer a need to disrupt your focus from the task at hand, no matter what you're doing. Instead of having to pull out your iPhone or handheld GPS, now you only need to take a quick glance down at your watch. Water Pilot also works great anywhere on the boat, which means you no longer need to be in the cockpit of your boat to view information on your instruments.

For more information or to contact us, please visit our website at waterpilotapp.com.

We are committed to delivering an app that you will enjoy, get use out of, and that will ultimately make your boating experience a more pleasurable one. If you need to contact us with any comments, questions, ideas for features, or bugs, please visit our website and do so.
Tag: Water Pilot - GPS Navigation Information on your Pebble Smartwatch , Water Pilot - GPS Navigation Information on your Pebble Smartwatch
---
Leave a comment
Games and apps related to Navigation